Like Ingrid, I'm not a HM fan, all be it for different reasons. I'm not a fan of "pop" music in general.
Also, like Ingrid, I dislike celebrities throwing out phrases like "I do it all for Jesus". It seems like a cliche and not very thought out or meaningful.
So I watched the video Ingrid posted and I was a little disappointed. I was kind of hoping it would be worldly. However, there is no crotch grabbing, no dirty dancing, no nothing. It is some girl jumping around to music and not in a provocative outfit or in a provocative style. You can see for yourself the "worldliness":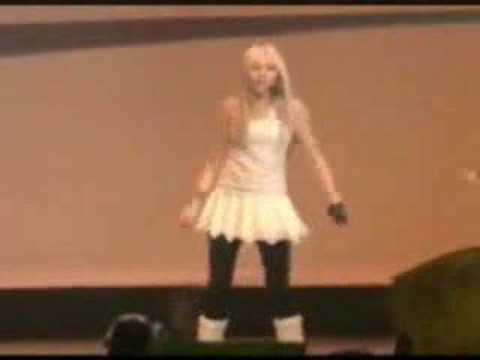 As I read Ingrid's article, I wondered what exactly her definition of worldliness is? For instance, I have had to work late for the past two weeks because we have a big project due. My non-believer boss has publicly thanked me. Is that worldly, to be recognized by a non believer for hard work?
What if I got up at the next company meeting and gave a big speech in front of thousands of fellow employees and I got a standing ovation? Is that worldly?
What if I was actually skilled enough at a sport, say baseball. Two out, bottom of the ninth, bases loaded. I hit the home run and thousands cheer me. Is that worldly?
Am I missing something here?
This entry was posted on Thursday, March 27th, 2008 at 6:25 am and is filed under
Legalism
,
Music and Art
. You can follow any responses to this entry through the
RSS 2.0
feed. Both comments and pings are currently closed.